Product Name: Diesel Forklift and Electric Forklift
Model: CPC30K, CPC35K, CPCD50, etc.
Capacity: See data sheet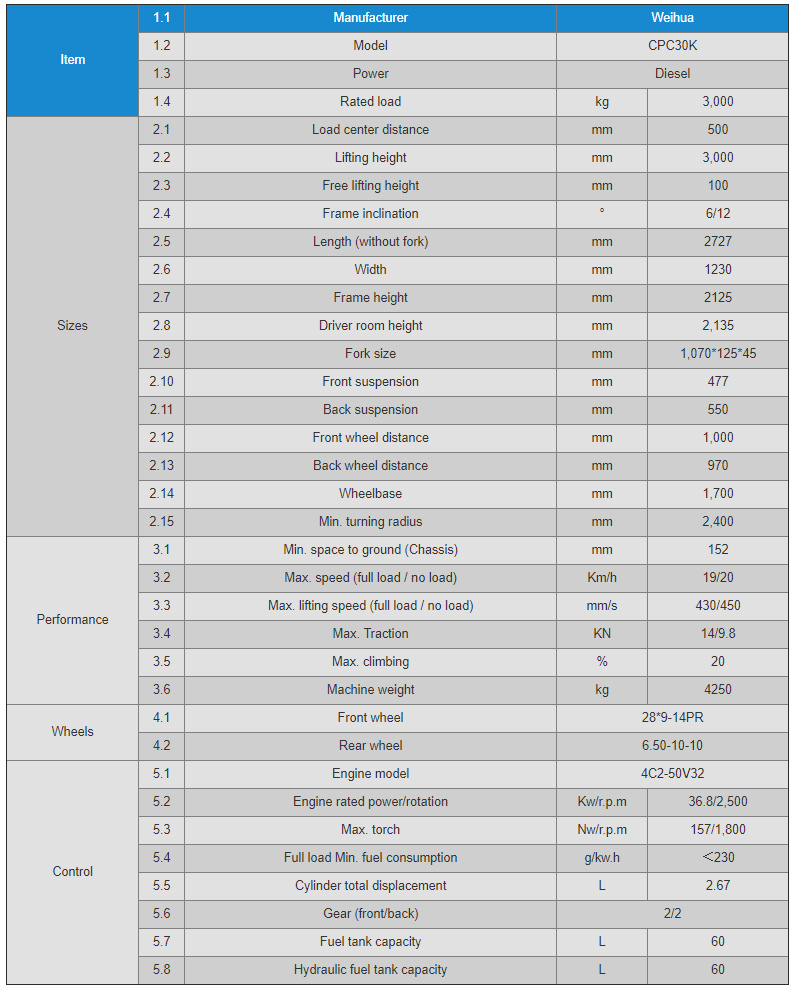 Stable Performance:
Optimized mast structure reduces the front suspension, with large lifting capacity. Optimized full set machine layout, and the whole center of gravity is at the rear, so that the vehicle longitudinal stability is better with stability coefficient increased by 20%.
Precise Design:
Enhanced YQXD100 gearbox to optimize the transmission ratio with big torque output range, improving traction also increase the forklift speed when light load.
High Quality:
Unique appearance design with smooth vehicle line, in line with the latest design trends. China well-known brand turbocharged engine with strong driving force, energy saving and environmental protection.
Technical Parameters:
1. Small diameter steering wheel, greatly improving the operational comfort, reducing the operator's fatigue strength.
2. Hydraulic shift, electronic control, light and flexible.
3. Engine intake pipe is with high independent channel, effectively prevent dust inhalation.
4. Large capacity tube belt radiator, optimize the cooling channel, improve oil temperature, water temperature, and improve vehicle cooling capacity.
5. The main force components adopt finite element analysis to ensure structural strength and rigidity, while enhancing the vehicle lift capacity of more than 15%.
6. Sports parts of the movement simulation to ensure smooth and reliable operation of the agencies.
7. Hydraulic system uses double pump system, the confluence before valve, steering stable shunt, the system moves independently and smoothly.
8. All hydraulic cylinders use internationally renowned seals with good impact resistance and long service life.
9. Brake with vacuum power, supple and reliable.
10. Split side roller structure, reasonable mast force and smooth operation.
11. Scalable drive shaft, running automatically remove the transmission angle changes generated by the additional angular acceleration, improve the transmission shaft life.
12. Unique frame structure design, the engine and the rear axle and rear tail frame connection, to avoid the lack of rigidity of the product frame, while reducing vehicle vibration.
13. Frame board with the overall structure, improve the rigidity while improving the process, and reduce welding deformation.